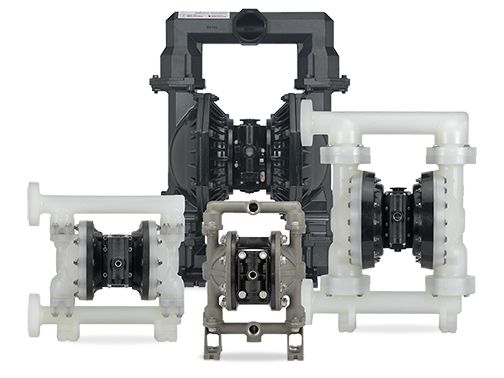 Ingersoll Rand ARO Operated Diaphragm Pumps
Air operated double diaphragm pumps are positive displacement pumps featuring two flexible, elastomer diaphragms. The pump uses compressed air to create a reciprocating action between the two diaphragms, creating a motion that pulls in and expels fluid through the pump chambers.
Air Operated Pumps for High Viscosity and Shear Sensitive Substances
Double diaphragm pumps work well for abrasive highly viscous substances such as oil, syrups, asphalt, and more and transfer shear sensitive substances and large particles without causing damage. The versatile pumping capabilities of air operated pumps makes them a popular option for applications including mining, paint and coatings, ceramics, chemicals, pulp and paper, oil and gas, and municipal/wastewater treatment.
The PVDF construction of ARO double diaphragm pumps provides excellent resistance to chemicals, minimizing wear and extending the life of your air operated pump. The pneumatic operation also makes air operated pumps safer to use around hazardous substances.
Benefits of air operated double diaphragm pumps include:
Virtually leak-free operation
Handles abrasive and highly viscous substances
Gentle pumping action for shear sensitive fluids
Runs dry without causing damage (dry running not recommended for long periods)
Self-priming for easier operation
Operate on compressed air instead of electricity
ARO Air Operated Double Diaphragm Pumps and Pump Accessories
PS-AZ is an authorized ARO double diaphragm pump supplier located in Arizona. We provide top quality pumps and pump accessories to users across various industries and work hard to address the equipment needs of our customers.
We offer ARO air operated double diaphragm pumps in a variety of configurations with a wide selection of elastomer options. Pump sizes range from 1/4" to 3" and feature variable flow outlet and discharge pressure to provide flow rates up to 275 gallons per minute. We also offer sanitary and special application double diaphragm pumps, and air and wet side repair kits.
Material options for ARO double diaphragm pumps include:
Aluminum
Cast Iron
Stainless Steel
Hastelloy C
Polypropylene
Get Help Finding the Right ARO Double Diaphragm Pump for Your Application
We are an Arizona-based ARO pump distributor serving customers from a broad range of industries. Contact us to learn more about our inventory and for assistance selecting the right air operated double diaphragm pump for your application.