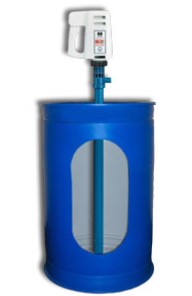 Drum Pumps
Drum pumps, also called barrel pumps, are positive displacement pumps that pump, transfer, and dispense liquids from barrels, tanks, drums, IBCs, and other vessels. These pumps sit on top of the drum or barrel opening and feature a long siphon tube that sits in the pumping fluid.
The primary benefit of drum pumps is they eliminate the inconvenience of tipping large, heavy containers to remove fluids.  They also take up minimal space due to their compact design. Barrel pumps come in two styles: 
Manual Drum Pumps: These pumps do not have a motor and can be actuated by hand or using a piston pump. This style is highly portable and best for lower volume applications. Because there's no electricity involved, manual drum pumps are also suitable for applications requiring a spark-proof option.
Air Motor Drum Pumps: The compressed-air motors can be used to transfer highly flammable liquids or in any application requiring a powerful, easy to control motor.
Electric Drum Pumps: Have a small motor that runs on AC or DC power. Use this pump style for applications requiring consistent, high-volume fluid transfer, or when you need to operate multiple pumps simultaneously.
Industrial Applications for Drum Pumps
Drum pumps are best suited for applications involving low or medium viscosity fluids like chemicals, syrups, oils, and paint. Standard applications for barrel pumps include:  
Chemical Production
Food & Beverage Processing
General Manufacturing
Paint & Coatings
Oil & Gas
High-Quality Manual and Electric Drum Pumps
Our inventory includes manual, air, and electrically driven drum pumps in plastic or stainless-steel material options. We also carry handles, hoses, nozzles, and other accessories to customize your barrel pump. Select a drum pump from one of the following manufacturers: 
Flux
ARO
Graco®
Sethco®
Lutz Pumps
We Stock the Drum Pumps You Need. Contact Us Today!
PS-AZ works with the industry's top manufacturers to provide you with the pumps and accessories you need. We have an extensive inventory of in-stock drum pumps and can help you find the best option for your application. Contact us to learn more about our options!