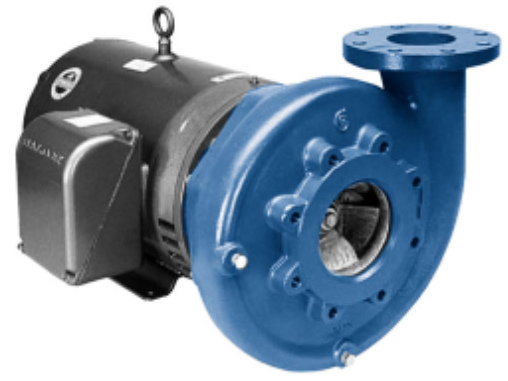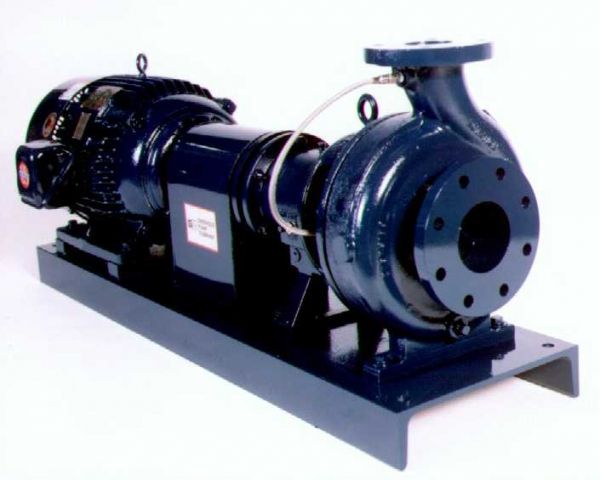 Centrifugal and ANSI Pumps
Centrifugal pumps transport fluid by converting rotational energy into hydrodynamic energy. The rotational energy comes from an induction motor that rotates an impeller submerged in water. Centrifugal pumps have an inlet (suction) the center and an outlet (discharge) on the vertical axis.  As fluid enters the impeller, a series of blades creates centrifugal force that forces fluid out to the edge, where it collects and pushes its way to the outlet.
The speed of the induction motor determines the flow rate of the system, and the impeller must always be submerged in water to ensure sufficient flow and proper operation.  If the pressure gets too low, it results in cavitation that causes the water to boil, potentially damaging the component.
There are several different centrifugal pump configurations and styles, including:
End Suction Centrifugal Pumps: A multi-purpose pump featuring suction on the end of the pump and an outlet at the top. These pumps have a basic design that typically includes a casing.
Long Coupled Centrifugal Pumps: This pump style features a coupling between the pump shaft and the motor shaft, making it possible to perform maintenance without removing the motor.
Vertical Multi-Stage Centrifugal Pumps: These centrifugal pumps feature multiple impellers on a common shaft to develop higher amounts of pressure.
Vertical Turbine Centrifugal Pumps: The vertical design of these pumps allows the movement of water from wells and underground reservoirs.
Split-Case Centrifugal Pumps: A style of centrifugal pump split radially or axially to create two separate chambers and provide a higher flow range than standard centrifugal pumps.
ANSI Centrifugal Pumps: A type of single-stage centrifugal pump that conforms to the dimensional requirements of ANSI standards.
Industrial Applications for Centrifugal Pumps
Centrifugal pumps are incredibly versatile, and perhaps the most widely used pump for industrial applications involving water-based products. Examples of typical pump applications include:
Boiler feeds
Chemical and petrochemical
Drainage systems
Fire protection systems
Food and beverage production
Irrigation systems
Mining
Municipal water plants
Centrifugal Pumps and Pump Parts from Trusted Manufacturers
PS-AZ offers centrifugal pumps in all configurations with an option of bronze, bronze fitted, cast iron, or stainless-steel housing. Cast iron is the best option for general water pumps or use on ships and in cooling towers. For NSF 61 rated clean water applications and other situations where sanitation or chemical resistance is a concern, stainless steel is typically the best option.
We carry centrifugal pumps and pump parts from the following manufacturers:
Burks
Crane
Deming
Prosser
Scot Pumps and Systems
Weinman
Xylem Goulds
We Offer High-Quality Centrifugal Pumps and Pump Parts. Contact Us Today!
We carry a broad inventory of centrifugal pumps and centrifugal pump parts from leading manufacturers. Let us help you find the right solution for your industrial pumping applications. Contact us to learn more.